Bikini-clad girls and footprints; New classes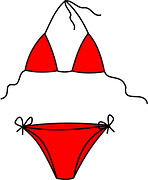 A quick blog today about the impact of social media on a child's digital footprint. I was made aware today of a YouTube video made by some local high school kids (several whose parents I know). In the video, nothing bad or illegal happens. Just a bunch of high schoolers having a good time. But in the video, the opening scene is of three bikini-clad girls rubbing suntan lotion on a boy and feeding him strawberries. Another scene shows four girls in bikinis around a boy on a motorcycle, one girl straddling behind the boy on the motorcycle seat, arm draped over his shoulder, her hand grabbing his chest while he flexes. The rest of the video is pretty silly, benign, harmless, etc. Throughout the video though, the girls are wearing bikinis and lounging around the boys or serving them food. I get it. They thought it was funny and silly and I'm sure they thought it would only be seen by their high school friends. Unfortunately, it also got posted on Facebook by an adult. And it's publicly available to find on YouTube. So now it's "out there". Out there for sororities/fraternities/clubs/organizations to find. Out there for universities to find. Out there for potential employers to find. Out there for others to decide what that tells them about those kids.
My son has an Instagram account and he mostly uses it to keep up with friends and watch sports highlights. My husband and I actually made him sign a contract before we let him open the account. Our "Rules of Instagram" include: no mean posts, no followers that aren't people they actually know, no posting of another kid who doesn't have his own Instagram account unless I get permission from their parent, and no posting of anything they wouldn't want shown in front of the entire school.
Kids and especially teenagers need constant reminders to "Be smart. Don't do anything you'll regret. Make good choices." Please monitor your child's social media accounts and make sure they aren't leaving a footprint that you'd frantically try to erase if you knew about it. Nothing wrong with girls wearing bikinis. Nothing wrong with hanging out with friends around the pool. A video of your daughter in a bikini serving a boy food and rubbing oil on him? A video of your son laying poolside with girls in bikinis "serving" him? If you're aware and okay with it, great! If you don't want that shown to the school, shown to their grandparents, shown to their church pastor, then do something about it!
Also, discuss with your close friends what you want them to do if they find out about something your child is doing that you might want to know. My close friends know what to do: TELL ME. If my kids do something questionable/inappropriate/mean/rude, I want to know about it. It won't hurt my feelings. Don't judge my children; help them! It takes a village, right? Help me raise my kids to be good, kind, and honest. Help me teach them to be respectable and respectful. Help me and I'll help you.
*****The next Camp Careful classes will be held on June 9th and June 13th at First United Methodist Church in Waco.  As always, there will be 3-6 year old classes and 7-14 year old classes. This will be the last dates this summer, so if your child is going to summer camps/activities, SIGN UP QUICK! Hope to see you all soon. You can sign up for your next Camp Careful class with this link.*****
Thank you, and as always, empower your kids and stay safe!
Soo Battle, M.D., F.A.A.P.
Disclaimer: The information contained on this website/blog is for informational purposes only and should not be used to replace the relationship that exists between you and your pediatrician or doctor. Please contact your doctor for medical advice and/or treatment recommendations specific to your child.